Relay Information & Restrictions
Due to mercury-added products being banned or phased out in some states, MDI cannot ship Mercury added products (Relays, Switches and Floats) to the following IMERC states:
Connecticut (CT), Minnesota (MN), Maine (ME), Massachusetts (MA), New Hampshire (NH), New York (NY), Rhode Island (RI), or Vermont (VT)
These states belong to the Interstate Mercury Education and Reduction Clearinghouse (IMERC) group, which have these restrictions.
Exemptions are currently being applied for in cases where Mercury Relays and Switches are being used to replace relays and switches in equipment originally manufactured with Mercury Relays and Switches. But, currently, MDI cannot ship into these states.
Mercury Relays (Mercury Contactors) are all designed and built to meet the most exacting demands of industry. They have won their high place in the electrical field by doing the tough and tricky jobs that ordinary equipment could at best do in an uncertain manner (especially resistive heating). They have proved their ability to stand up under the most adverse conditions of temperature, dust and moisture, in all types of applications. All the care required for the manufacture of high-grade instruments is used in the manufacture of the switches. All switch parts are specially cleaned, and contamination is avoided by use of tweezers, gloves, etc., when making assemblies.
Mercury Relays (Mercury Contactors) are hermetically sealed with high quality glass to metal seals.
The stainless steel tube is totally encapsulated in high grade UL approved epoxy to prevent moisture damage and voltage breakdown through the protective coating.
The coils are wound on compact nylon bobbins and molded onto the metal tube to provide minimum power loss. This allows for low coil power required to actuate the contactor. This also enables the units to handle high loads with minimum de-rating due to higher ambient temperatures.
Inert gases internally prevent excessive arcing between the mercury and the electrodes which enables the unit to function for millions of cycles with very low contact resistance, and minimum deterioration of the internal parts.
Available in all standard coil voltages, in single pole, two pole and three pole arrangements. Other coil voltages available upon request.
In multiple pole units each tube is actuated by its own coil. This eliminates pull-in variation between contact tubes, assuring consistent switching.
If you are wanting to return mercury relays, please refer to relay return policy and SDS here.
Example: 235NO-120ATSHX-30
2 Pole, 35 AMP, NO (Normally Open Relay), 120A 120 VAC Coil, T (Top Contactor Terminals), S (Screw Terminals in place of Compression Terminals), H (Hydrogen Back-Fill gas for inductive loads), X (Hazardous Locations), -30 (-11 MOV on Coil, -17 DIN Rail Mounting & -18 Steel Strap)
AC Coil Voltage

or

DA

Special "A" Backplate or Bracket

Snap Trac Backplate or Bracket

Shrink Wrap on Coil Connectors

DC Coil Voltage

Fly-Back Diode

Enclosures

Fast-On Male Tabs on Coil Terminals

Compression Terminals on 30 AMP Relays

Hydrogen Gas for Inductive Loads

Leads on Load Terminals

Motor Load Ratings

Narrow Backplate or Bracket (NRM Mount)

Rectified Coil

Top Contactor Load Terminal

Screws for Top Terminals (In place of Compression Terminals)

Universal Backplate or Bracket

Snap Action Backplate or Bracket

Hazardous Locations

Finger Safe
In-Series Contactors

In-Series Coils

Large (1-8 AWG) Compression Terminals

or

-6A

High Voltage Contactors

No Coil Connectors (For Individual Control)

Mercury to Mercury Contactor

T-Top w/ Hex Socket Set Screw

MOV on Coil

LED for Coil Indicator

MOV & Steel Strap

(-11 & -18)

Suppression Board w/ LED on Coil

Top Stud for 35-AMP & 60-AMP Contactors (1/4-20 Threads)

Top & Bottom Stud for 35-AMP & 60-AMP Contactors (1/4-20 Threads)

DIN Rail Mounting

Steel Strap

NRM Type Bracket/Backplate Mount

DIN Rail Mount & Steel Strap

(-17 & -18)

30-AMP Contactor w/ Removable Coil

Series Coil & Steel Strap

(-4 & -18)

High Voltage Contactor & DIN Rail Mount

(-6 or -6A & -17)

MOV on Coil, DIN Rail Mont & Steel Strap

(-11, -17 & -18)

DIN Rail Mount & NRM Type Bracket/Backplate Mount

(-17 & -19)

Large (1-8 AWG) Compression Terminals & Steel Strap

(-5 & -18)

T-Top w/ Hex Socket Set Screw & Steel Strap

(-10 & -18)

Large (1-8 AWG) Compression Terminals, MOV on Coil & Steel Strap

(-5, -11 & -18)

MOV on Coil & DIN Rail Mont

(-11 & -17)

No Coil Connectors (For Individual Control) & Steel Strap

(-8 & -18)
MERCURY TO METAL CONTACTOR
The mercury relays (mercury contactors) load terminals are isolated from each other by the glass in the hermetic seal. "The plunger assembly", which includes the ceramic insulator, the magnetic sleeve and related parts, floats on the mercury pool. When the coil is powered causing a magnetic field, the plunger assembly is pulled down into the mercury pool which is in turn displaced and moved up to make contact with the electrode, closing the circuit between the top and bottom load terminal, which is connected to the stainless steel can.
To make the unit function as a "Hybrid" time delay, we add a solid state circuit to the coil to delay the power to the coil.
For constant duty applications, a return spring is used in place of the buffer spring.
Contact the factory.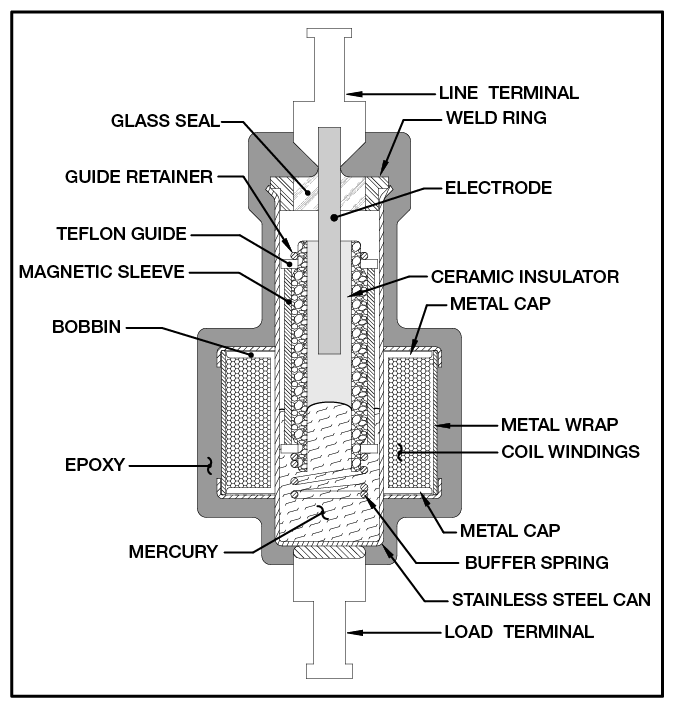 ---
MERCURY TO MERCURY CONTACTORS
Time Delay Relays Are available with delays of up to 15 seconds on normally open units, and 4 seconds on normally closed units. The timing limitation depends on the contact action required. A time delay function is accomplished in this unit by sizing a hole in the time disc that will control the rate of the mercury flow. This controls the time it will take from the instant the coil is powered until the mercury pools make contact with each other, closing the circuit between the load terminals. Typical contact ratings 10 AMP @ 120 VAC. Pilot duty rating 720 VA. Common coil voltages are available. Standard load terminals are compression type. Coil terminals use #6 binding head screws.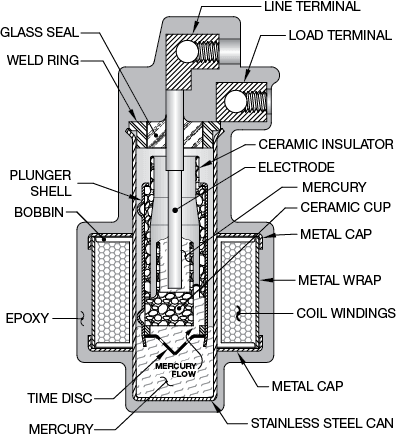 ADVANTAGES OVER ELECTROMECHANICAL AND SOLID STATE RELAYS

Superior Performance and Reliability

Long life
Durable

Compact Size
Low, Predictable Contact Resistance
Reduced RFI for Improved Interface Capability
Handles a Variety of Loads

Increases design flexibility

Rapid On-Off Cycling Capability

Mercury quickly dissipates contact heat

Low Coil Power Requirements
Minimal Derating Due to Higher Ambient Temperatures
Quiet Action

DESIGN and CONSTRUCTION

Contacts are within a hermetically sealed steel body

Impervious to adverse conditions
No external arcing

Arcing is in a gaseous atmosphere

Quenches the arc
Extends relay life

Only one moving part (the plunger)

No buttons to pit, weld or burn out

One coil for each set of contacts

Assures consistent switching
Minimizes pull-in variation between contacts

Epoxy encapsulated

Moisture resistant
High dielectric strength
Permanently fixes contacts to coil; eliminating possible misalignment
Helps dissipate heat and noise
Rugged (impact resistant)

BENEFITS

Reduction of Operational and Maintenance costs
Increases Utilization and Productivity of Equipment

By reducing down-time

Installation and service is a routine operation

Simple to install
No sophisticated equipment is required
Easy to trouble-shoot
LIGHTING
Auditorium Lighting
Copy Equipment
Dimmer Controls
Display Signs
Emergency Lighting
Flood Lights
High Intensity Lamps
Hospital Lighting
Lighting Test Panels
Mercury Vapor Lamps
Parking Lots
Photography Lighting
Scoreboards
Sodium Vapor Lamps
Stage Lighting
Street Lighting
Tower Control
Traffic Signal
Tungsten Lamps
INDUSTRY EQUIPMENT (HEATERS)
Baking Ovens
Coffee Urns
Deep Fryers
Dishwashers
Electric Grills
Electric Ranges
Pizza Ovens
Steam Generators
GENERAL APPLICATIONS
Air Conditioning
Alarm Systems
Automatic Door Closers
Battery Chargers
Blue Print Machines
Copiers
Computer Power Supplies
Corrosive Locations
Dusty, Oily Locations
Dry Cleaning Equipment
Energy Management Systems
Farm Incubators and Brooders
High Cycle Rate Applications
Low Voltage Switching
Marking Equipment
Engraving Equipment
Motor Starting
Soldering Systems
Telephone Switching
Test Panels
Vapor De-greasers
X-Ray Machine Controls
SPECIALTY APPLICATIONS
Capacitor Discharge Systems
Hazardous Locations
Phase Converters
Tower Control
ELECTRIC HEATERS
Baseboard Heaters
Blow Molding
Cabinet Heaters
Chemical Tank Heaters
Curing Furnaces
Drying Ovens
Duct Heaters
Film Packaging
Glass Furnaces
Heat Lamps
Heat Sealing Machines
Induction Heater
Industrial Ovens
Infrared Heaters
Ink Drying
Ink Heating
Injection Molding Machines
Kilns
Lab Ovens
Packaging Equipment
Plastic Extruder
Quartz Heaters
Radiant Heaters
Roof Top Heating
Shrink Tunnels
Unit Heaters
Vacuum Forming
Typical Specifications:
On Normally Open Units:

Operate Time: 50 milliseconds
Release Time: 80 milliseconds

On Normally Closed Units:

Operate Time: 45 milliseconds
Release Time: 60 milliseconds

Contact Resistance: .001 ohm *
Dielectric Withstand: 2500 Vac RMS
Longevity: Millions of Cycles
Temperature Range: -35 degrees C to 85 degrees C
Coil Terminals: #6 Binding Head Screws Torque to 7 IN-LB
Load Terminals: Pressure Connectors. Standard Accepts 1 to 8 AWG Torque to 45 IN-LB
Ratings: Derate over 480 VAC Res.

Exceeds 5000 VAC RMS across the contacts
* After Cycling Under Load
For UV Curing, and Various High Voltage applications. Available in Single Pole, Normally Open, and Normally Closed Units. The coils utilize 6-32 Wire Binding Screws, and the Contacts use Compression type terminals for 4 thru 14 AWG wire.
Ratings:

10 Amps @ 3,500 VAC
15 Amps @ 2,500 VAC
AC Inductive - Power Factor .7 or Greater

Exceeds 5000 VAC RMS across the contacts
While MDIs contactors handle high inrush, such as lamp loads, very well, mercury contactors are susceptible to damage by short circuit currents, and should be fused to minimize short circuit fault currents. Fast acting UL class RK-1 and class J fuses and semiconductor I²t fuses more effectively protect relays than other fuses. These are low-peak fuses designed to limit short circuit currents. Regardless, when there is a short circuit, relay operations should be closely monitored afterward because of the possibility of concealed damage that could cause the relays to behave inconsistently.
250 VOLT
KTS-R
JJS
JKS/A4J
KTK-R
Mercury Displacement relays must mount vertically +/- 10 degrees.
Control line can be protected with metal oxide varistor (MOV). Use suffix -11.
Disconnect power before installing or servicing. Observe all electrical and safety codes and ordinances such as National Electrical Code (NEC) and the Occupational Safety and Health Act (OSHA).