Shredder Pumps - BJM SK/SKX Series
SK Series: Cast Iron and 304 Stainless Steel for non-corrosive applications.
SKX Series: All 316 Stainless Steel and Viton® for corrosive liquids or applications where cast iron oxidation contaminates the pumped liquids.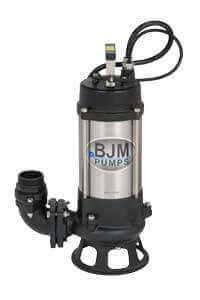 Schools
Bus Stations
Feed lots
Sport centers
Aquariums
Food packaging
Aquatic Parks
Meat processors
Research centers
Spill containment
Hospitals
Wash down
Trailer parks
Bottling plants
Shopping malls
Amusement parks
Camp grounds
Airports
Dairies
Industrial Parks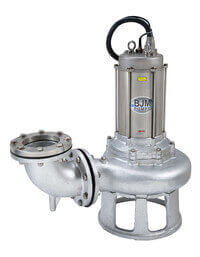 ---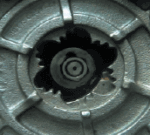 BJM Shredder Pumps are designed and built to "EAT", destroying solids by tearing, breaking and ripping them to pieces.

A "mouth" of hardened teeth on the pump suction plate traps solids. A BJM Fang™ impeller with hard sharpened tungsten carbide "tooth" on the leading edge of the open vane non-clog impeller shreds the solids against the suction plate "teeth".
The BJM Shredder Pump is more than a chopper or cutter pump that cuts solids between the edge of an impeller and a cutter bar like an axe. BJM's Shredder Pump continuously rips solids apart with 360 degree shredding action.
This makes the BJM Shredder Pump capable of "eating" almost any solid.
BJM Shredder Pumps "eat" raw sewage and...
Plastics
Beverage Containers
Children's Toys
Tampon Applicators
Eating Utensils
Condoms
Metals
Beer Cans
Soda Cans
Bottle Caps
Wire
Food Wastes
Fish, Meats, & Poultry
Whole Fruits
Vegetables
Fibrous Solids
Diapers
Sanitary pads
Gloves
Elastic Undergarments
Towels
The unique construction and solids handling of the BJM Shredder Pump makes it the choice for wastewater and industrial applications.
---
Model
Discharge
Size
H.P.
Voltage
Phase
RPM
Rated
AMPS
Max.
Solids
Max.
Head
Max.
GPM
Height
Width
Pump
Weight
SKX750C
2"
1
115/230
1
3450
14/7
2"
48'
95
21.25
13.5"
75 LBS.
SK1500C/SKX1500C
3"
2
230
1
3450
14
1.6"
40'
220
21.5"
14.75"
93 LBS.
SK08C/SKX08C
2"
1
230/480
3
3450
3.2/1.6
2"
48'
95
21.25"
13.5"
69 LBS.
SK15C/SKX15C
3"
2
230/460
3
3450
6/3
1.6"
42'
220
20.5"
14.75"
84
SK22C/SKX22C
3"
3
230/460
3
3450
9/4.5
1.6"
45'
270
21.8"
15.3"
113
SK37C/SKX37C
3" or 4"
5
230/460
3
3450
14/7
1.6"
62'
360
22.5"
15.3"
121
SK55C/SKX55C
4"
7.5
230/460
3
1750
21/10.5
3.5"
54'
570
30"
29.5"
321
SK75C/SKX75C
4"
10
460
3
1750
15
3.5"
64'
670
31.5"
29.5"
337
SK110C/SKX110C
6"
15
460
3
1750
19.8
3.5"
94'
845
35.6"
35.2"
515
SK150C/SKX150C
6"
20
460
3
1750
25.7
3.5"
101'
911
37.6"
35.2"
534
---